Enjoy the finest hospitality and a relaxing stay at Matuya Sensen.
At Matuya Sensen, guests can enjoy a leisurely soak in one of the largest hot spring baths in the Hokuriku area of Japan.
We also offer deluxe guest rooms which boast their own private, open-air hot spring baths, perfect for those seeking the ultimate in comfort and privacy.
After relaxing in the hot springs, please enjoy freshly-made dishes made of the finest seasonal ingredients.

Access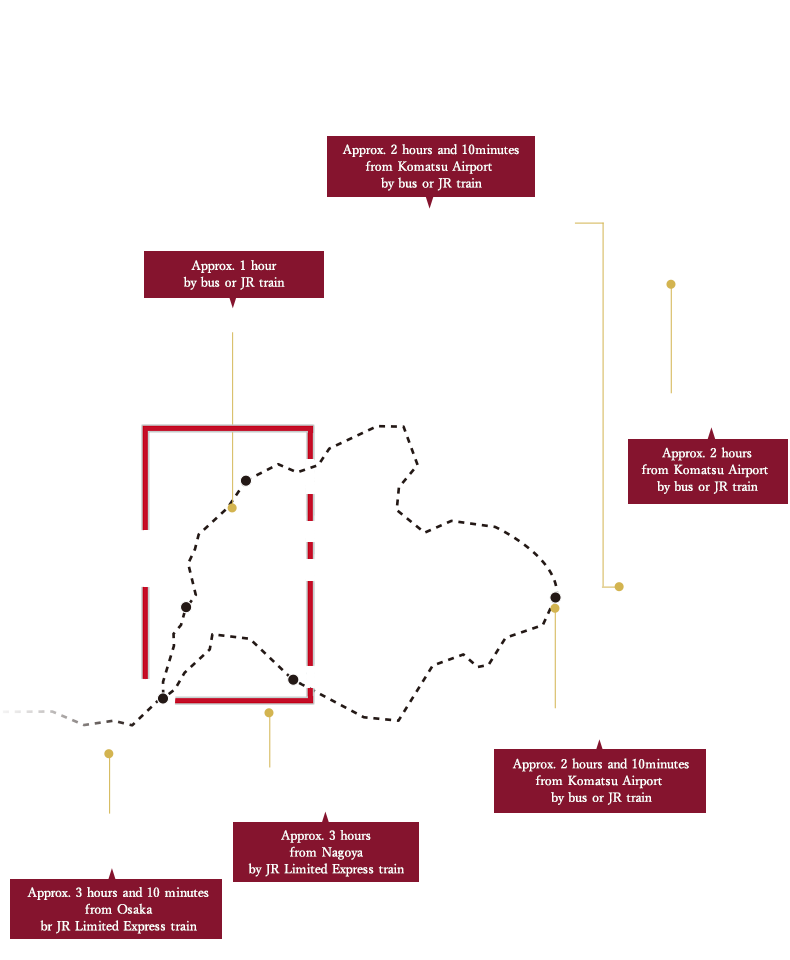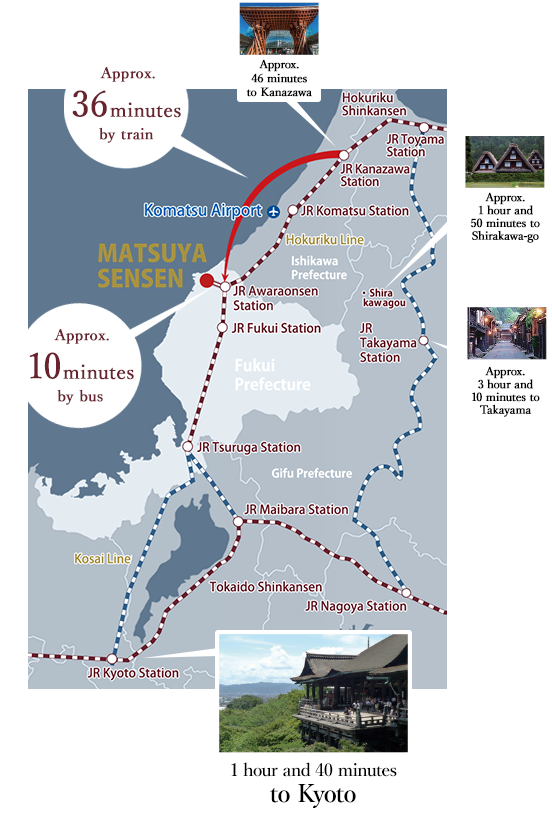 Approx. 46 minutes from JR Kanazawa Station to Matuya Sensen via JR Awaraonsen Station
It takes 37 minutes from JR Kanazawa Station to Awaraonsen Station by Limited Express train.
It takes 10 minutes from JR Awaraonsen Station to Matuya Sensen by free shuttle bus.
Free shuttle bus (Reservation required)
See more detailed access information
Tourist Information
Matuya Sensen is the perfect base for sightseeing in the Hokuriku region.
Learn more about some of the most popular sightseeing spots in each area.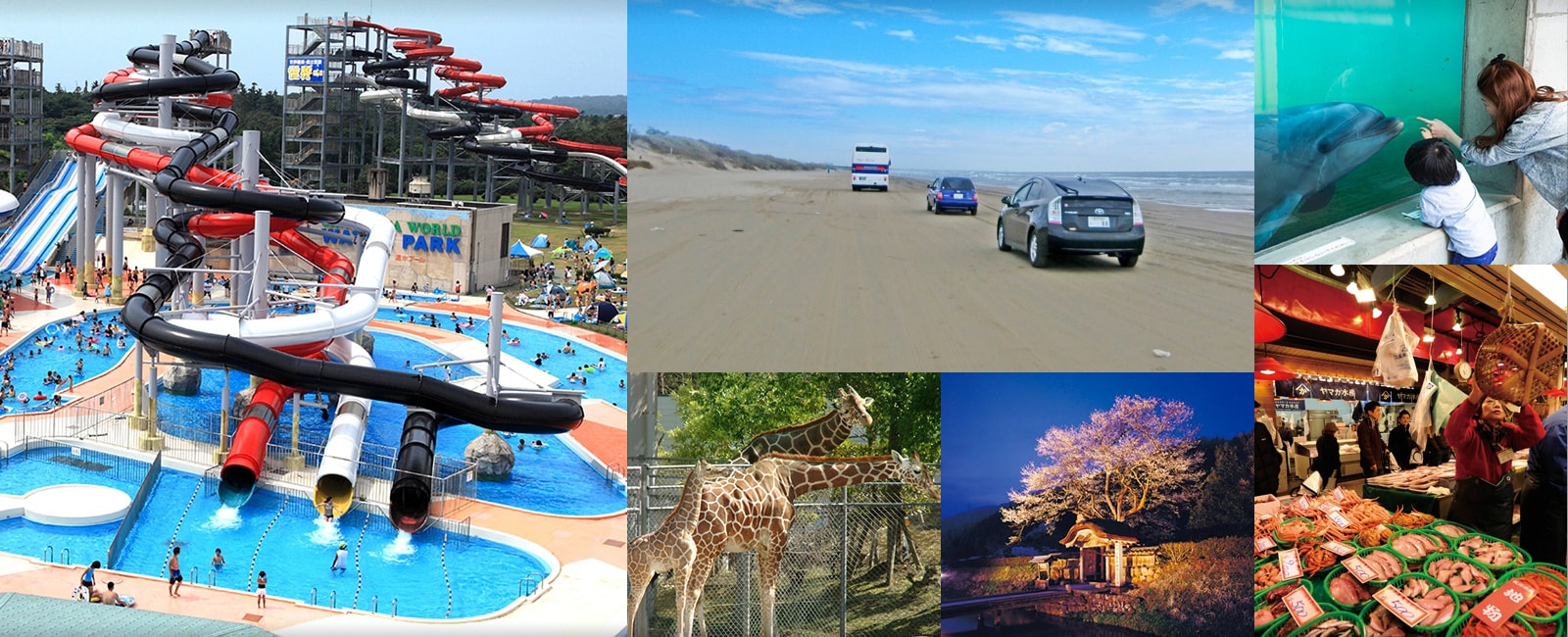 Fukui Area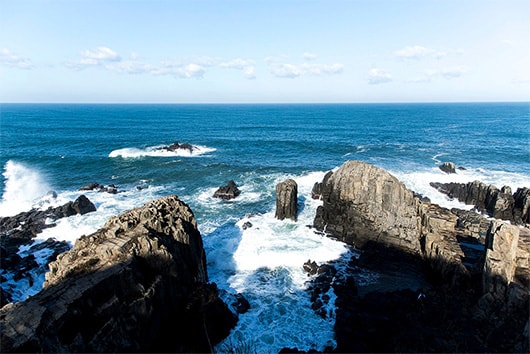 Tojinbo
Tojinbo is a series of steep cliffs with a height of more than 20 meters. The cliffs are a nationally designated place of scenic beauty and are also a national natural treasure. There are naturally shaped rocks that look like a lion, a candle, and many more interesting shapes, and visitors can enjoy looking at them from a sightseeing boat.
Ishikawa Area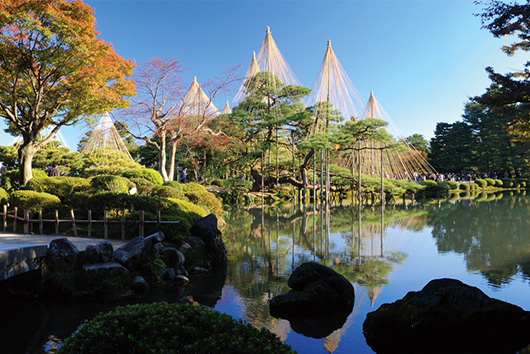 Kenrokuen
Kenrokuen shows a new and different beauty with each turn of the seasons, and fascinates visitors all year round. Visitors can enjoy cherry blossoms in spring, irises in early summer, autumn leaves in autumn, and yukizuri―placing ropes around the trees to protect them from the snow―in winter. The garden was granted the highest rank of three stars in the Michelin Green Guide Japan.
See more tourist information
The Unique Appeal of Matuya Sensen
Ryokan Information
Do you speak any languages other than Japanese?

Yes. We have English-speaking staff at the front desk. There are also English signs in our facilities. We also receive and respond to inquires in English via email.
(Please note that it may take a couple days to respond.)
We are unable to respond to Chinese (both traditional and simplified) and Korean. Thank you for your understanding.

Can I bring food inside the ryokan?

No. Please refrain from bringing outside food and drink to the ryokan. There are vending machines with beverages inside the buildings. The concession stand offers alcoholic beverages and snacks.

What time is the check-in time?

Our check-in time starts from 15:00 and ends at 19:00.
Please contact us in advance if you will be arriving after 18:00.

Is free Wi-Fi available?

Yes. Free Wi-Fi available in all buildings.
You can connect to the Internet through free Wi-Fi in the guest rooms, conference room, convention halls, restaurants, lobby, and lounge.

Do you offer luggage storage service?

Yes. You can leave your luggage at the front desk before and after check-in (excluding valuables).

Do you accept credit cards?

Yes. We accept the following cards:
JCB, VISA, Mastercard, American Express, UC, DC, NICOS, UFJ, SAISON

What are the charges for cancelling my stay?

Our cancellation policies are as follows:


5 days before your stay: 20% of the accommodation fee
3 or 4 days before your stay: 30% of the accommodation fee
2 days before your stay: 40% of the accommodation fee
The day before your stay: 50% of the accommodation fee
The day of your stay, or without prior notice: 100% of the accommodation fee
Note: Different rules are applied to groups of 14 or more people. Please consult us about them.